Literature
Jump to navigation
Jump to search
Books, Journals, Magazines, Datasheets and all other literature related to reverse engineering is welcome here. The book pictured is the bound edition of a portion of the PDF's available in the PoC||GTFO section.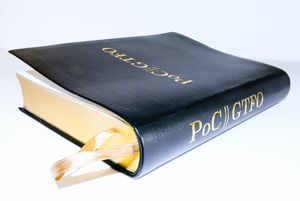 Resource Index
Books and Magazines
PoC||GTFO - International Journal of Proof-of-Concept or Get The Fuck Out (Mirror)
Hacking the Xbox - An Introduction to Reverse Engineering by Andrew "bunnie" Huang
The Hardware Hacker - Manufacturing and Open Hardware by Andrew "bunnie" Huang
Datasheets
DOCin - Chinese datasheet and other documents website
On-line Education
CSCI 4974 / 6974 Hardware Reverse Engineering - Good slide decks on reverse engineering hardware at all levels, IC to PCB.
Reverse Engineering Tutorial - A comprehensive reverse engineering tutorial covering x86, x64, 32-bit ARM & 64-bit ARM architectures.